Don't Buy The New April Brewer Pour Over Kit!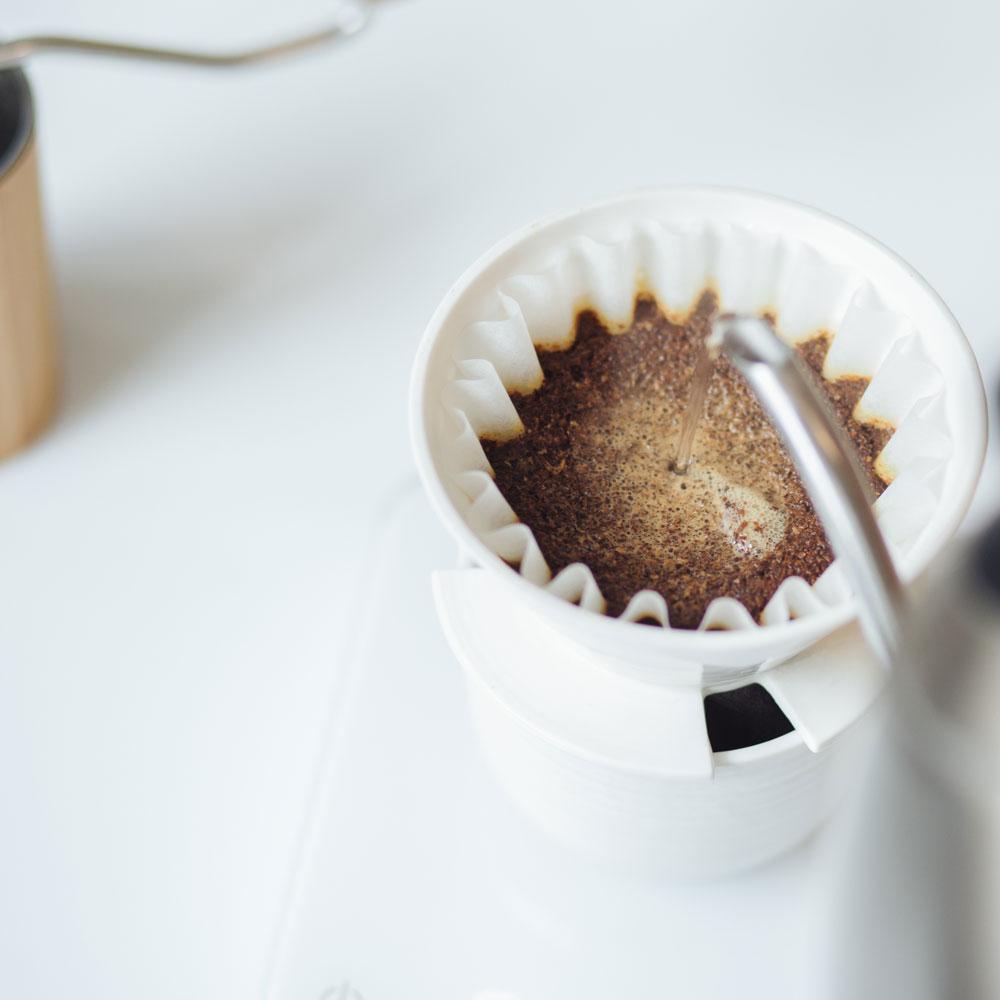 Don't buy the new April Brewer Pour-Over Kit. Just don't. Unless you are, like me, willing to become even more obsessed with making filter coffee at home. If you are wanting to take the next steps down the coffee rabbit hole, then, then by all means, buy an April Kit. You won't regret it.
Many of us have begun brewing regularly at home as part of our routine during quarantine, but unlike our favourite cafes, our gear selection might be limited. The April brewer gives us another opportunity to hone our skills and expand our home brew arsenal. Variety is the spice of life after all, right? And adding a variety of gear to your routine means experiencing your coffee in a variety of ways, all the more important since we can't quite enjoy cafes like we used to. But we can try! Put on some mellow indie rock, add a few ruffled newspapers to your kitchen table, pretend your arms are covered in tattoos, and you'll be on your way. Well, barely. God, I miss hanging out in cafes. I digress. Back to the April Kit! 
I first caught a glimpse of the April Brewer over a year ago, as I watched April Coffee founder Patrik Rolf brew his way to 2nd place in a coffee competition. Yes, there are competitions for making pour overs, believe it or not, and I've actually competed in one myself. And while we've all become our own barista during quarantine (maybe without that many tattoos), forced to make coffee at home, you don't have to be as serious as Patrik to achieve great results. Patrik developed the April brewer with both the coffee nerd and beginner in mind, proving that it can create a world-class cup of coffee in a competition, and also in your kitchen. 
You may have heard about flat-bottom brewers and perhaps you even own a Kalita Wave or Fellow Stagg dripper. They've been around for years and offer a counterpoint to the ubiquitous conical V60-type brewers out there. Some experts claim that conical shaped brewers emphasize acidity and complexity, and flat-bottom brewers promote sweetness. An SCA-backed study (though not without flaws) brought about these conclusions and it seemed to stick with me. When brewing coffee at home, armed with a wide array of brewers with different geometries, I began to think about sweetness. Sweetness, to me, is the main goal when I make coffee. The farmer was meticulous in growing the coffee so that it was picked at peak ripeness, with maximum sugar content. The roaster was then meticulous in roasting to capture that, and caramelize those sugars gently so that you can taste it in your cup. It's then up to you, while brewing, to capture it with hot water and a little technique. Sounds easy right? 
Not always. The April brewer is often compared specifically to the Kalita Wave 185. I've been using that device for about 8 years now, or since it was first available in the North American market. What I love about it is that the stainless steel version is virtually indestructible, and it's more forgiving than other drippers out there like the V60. But, like all pour over brewers on the market, it's not without flaws. The problem with the Kalita brewer is that it can clog, caused by small particles of coffee grounds that block the filter. Due to the design of the dripper, there isn't enough room for the air to circulate around the filter during the brew process. There are small fins at the bottom of the vessel, but they're not high enough to lift the filter up off of the interior surface, as it sticks flush to the metal. Vacuums can get created, and this can lead to slow brews that over-extract. Sometimes it works beautifully and I tell myself, "that SCA study was right, this is particularly sweet and delicious," as I bask in the joy that is nailing a pour over. I tell myself that I've honoured the farmers' and roasters' hard work, pat myself on the back, and enjoy my brew. But when it goes wrong, it can be frustrating. You can blame design flaws or poor technique, amoung other variables. When I spoke to Patrik recently during a live Instagram conversation, he told me that most drippers—though all with their own unique qualities—are outdated to an extent.
He claims many of the common drippers we all love and use everyday were invented over 10 years ago. A lot has changed since then. The way we roast coffee, the way we brew coffee, the science behind it all, are not the same. With the April Brewer, Patrik and the April team took these factors to heart, and spent a lot of time to get it right. This dripper was specifically created for Patrik to brew with at the World Brewer's Cup, and it went through many iterations to get to where it is now. When I saw him using it on the stage in Boston, it looked different to the final product we see now. And if you follow him on social media, you'll know that he does exhaustive research and testing— so perhaps you've seen those early prototypes as well.
The proof is in the pudding, or, coffee rather. When testing the April brewer I noticed immediately that the flow rates were faster as the air circulates better, which means you can enjoy more flexibility in grind size variation. I could grind finer without risking those slow, clogging issues, but I could also grind coarser and enjoy lighter extractions. The Kit, designed in conjunction with Belgian design firm Serax, includes the ceramic brewer and a gorgeous 250ml capacity ceramic mug with lid. The lid works to trap aromas of your coffee, enhancing the sensory experience, as you get a concentrated deluge of aroma upon lifting the lid. It's a nice way to slow down, and appreciate different aspects of your coffee, before diving in. The kit also includes a recipe card for the "professional coffee brewer" and another for the "coffee enthusiast." The former is the exact recipe Patrik used himself during the World Brewer's Cup, and the latter is a recipe that doesn't even require a scale — something I could give to my mother who is a casual coffee drinker, and who doesn't have a lot of brew equipment. Both recipes are easy to follow, and logical in their approaches. 
What I love about Patrik and the April team is the full transparency they espouse. They share recipes that most roasters and competitors would keep as guarded secrets. This means that we get to try out these proven, world-class recipes in our own homes, without having to spend countless hours doing research and development. The April brewer is a welcome addition to anyone's pour over arsenal, and a welcome answer to the issues of older flat bottom drippers. Whether you're making a cup for yourself, or for family/friends the April Brewer will not disappoint! So, I urge you to simply buy an April Brewer Pour Over Kit! Just buy one! Add some variety to your home setup, and be the best home barista you can be. (But maybe hold off on all those tattoos!)
Buy your very own April Brewer Pour Over Kit here! (The brewer can be used with Kalita 155 or 185 filters until April makes available their own proprietary filters.)