Intent and the Meaning of Bayanihan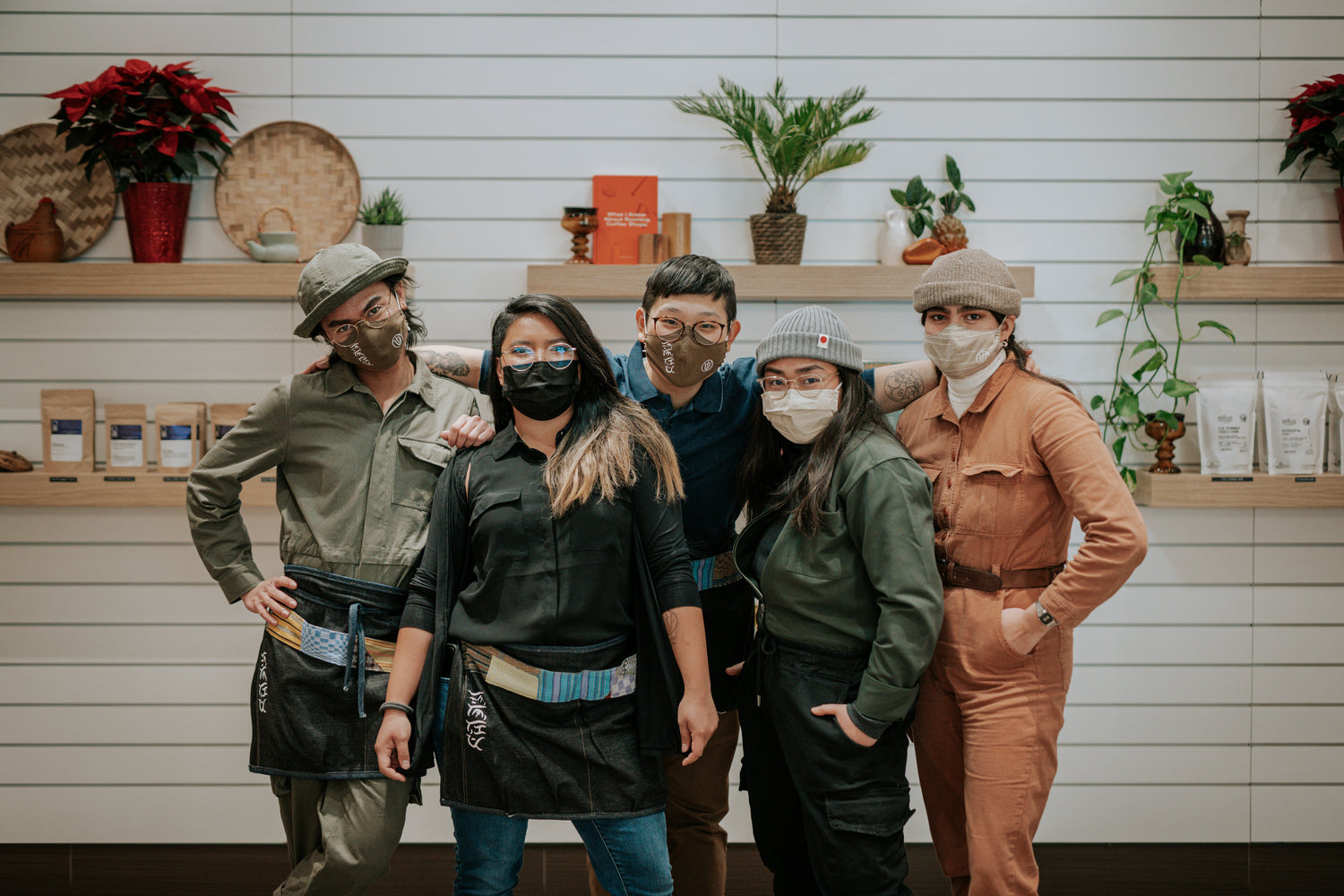 In the absence of safe spaces for queer youth, Intent Coffee was born. Filipino-owned and QTBIPOC-run, the Edmonton (Amiskwaciwâskahikan, Treaty 6) coffee shop is forging a more just world through equity, inclusivity, and sustainability. While it's easy to utter buzz words, owners Mavi Tolentino and Reika Herradura live and breathe their values, placing
bayanihan
first
. 
We got the chance to interview Mavi, who tells us more.
Who or what inspired you to go into coffee?
I wouldn't say there was a particular person, but a moment. I started working as a barista when I was 16 at Second Cup. My first job was Walmart and there was a Second Cup right beside it. I would wait for the bus but sometimes the bus takes so long that I would go into the café and get a hot chocolate. (laughs) And I just loved the vibes and the drink wasn't too hot. The milk was perfectly steamed to the right temperature to drink and I loved that. I liked the music and people just talking, and I'm just waiting for the bus. Just the feeling and the vibe of being in a café. I was like, I want to work here. So I applied.
It was mostly about the people and the environment that the coffee shop provides and facilitates, which is human connection. So many ideas and business decisions are made, and like, cultural and artistic stuff are made within the walls of a coffee shop. So many people go there from different walks of life. It can be a student, an engineer, a construction worker, and you could all go to the same place. And I find that when people come together from diverse backgrounds, that's when culture moves forward.
What does it take to put up a coffee shop?
It was a high school dream of ours. Reika and I were high school friends. We both went to Victoria School of the Arts. It started like a simple joke. I was really into sketching and drawing and visual arts, and Reika was into crafting. She's a woodworker now! So it was like, what if we combined all our passions into one space but have something that would attract people to it? We were like, coffee! The idea was to have a space where it's a gallery/production space where we make art and sell it, but there's a coffee bar inside, and the coffee bar would be the magnet to pull people in to have an experience within the space. So it started as a high school dream, and then we kinda went our separate ways. I pursued being a coffee professional and she went to NAIT to take woodwork.
Then after two years, after working for other people, we met up for drinks. We were just complaining about our current workspaces and how as brown, first-generation immigrants, we always have to work twice as hard to get half as much recognition or compensation or pay. We were a little bit tipsy, there was a moment of silence, and we put down the glass, and was like, hey do you remember in high school we had that dream of owning something and creating something together? A place that we create for us, by us, and for our communities? So we decided to pursue it. The first step was to create an email address. (laughs) The next day we had a company email and it started from there.
Take it one step at a time, right?
Yeah, if you've done the first step, you're not going to stop. We did the first step so we needed to keep going. So what it takes...(laughs) You need to be a dreamer. You have to not limit yourself in dreaming, thinking, and manifesting what could be. Like in Filipino,
libre lang mangarap
(it's free to dream). Whatever you tell your brain to do, it will excel in it. But you have to be aware that you're in complete control of your mindset, that you can change your mindset. So that's what I mean, keep dreaming but also keep going towards it.
Lots of patience too. (laughs) Especially if you're part of a marginalized group or community. If you're a first-gen immigrant, brown, Black, Indigenous, it can be quite hard. Or even if you're young! We're in our early 20s-- [alarm sounds] Sorry my alarm's going off. (laughs) I've set up a system to prevent burnout so that was a reminder for me to eat but I already ate lunch.
Okay. Good, good. I like that system.
Yeah so a lot of patience because there's not a lot of opportunities. There's a lot of barriers for marginalized people. Like we spent two years looking for grants. We went to banks and asked for loans. They would just laugh at us because, like, what do you have? You have nothing. My parents don't own any properties, we had no inheritance, they required us to have three times as much as we were loaning for? You have to have assets and we were young.
So we only found one outlet, which is Futurpreneur. It's a nonprofit. They give out business loans to younger people from like 18 to 35 because they know that most banks won't lend to our age group. So we went that route. They don't require any collateral whatsoever. They just need you to write a business plan, but that was tough too!
It can be discouraging sometimes because there's not a lot for us. You have to break that barrier. So be strong. Be persistent. And don't stop until you get it because you should get it! (laughs)
You deserve it!
You deserve it, yeah. There's a barrier but that barrier you need to break. And you need to have the strength and persistence to do that. Behind that barrier is the thing that you need and you should get it. Because if you break that barrier, then you break it for other people as well.
You also have to put people first. If you're not a people person, this is not for you. (laughs) We often say we're not really in the coffee industry, we're in the people industry. So it's all about people and relationships. Learn how to nurture others, invest in others, and also invest in yourself. It prevents burnout so remember to take care of yourself.
Commitment too. Running a business, running a coffee shop, it's never the same day in, day out. Some days are like super busy. It can last for like one to two weeks, or even months of being slow, and that can be discouraging. But those are the times that you need to push through and believe in what you created.
Can you describe one of your favourite traditions that is unique to your heritage?
We operate in the spirit of
bayanihan
here at Intent. Everything that we do must be in alignment with
bayanihan
because that's something that's so precious to us Filipinos. Back in the Philippines you can't really rely on the government so you rely on each other. If someone is in need in your community, you will help them because
alam mo na gagawin din nila sa'yo kung ikaw yung nangangailangan. Ang hirap man mabuhay, ang saya namin natin.
(You know they'll do the same for you if you're in need. Life may be hard, but atleast we're happy.) Because we have
bayanihan
. It's a community.
When I moved here I was thinking, my basic needs are met, I'm fed, I have a house, I have a roof.
Hindi na kami nanghihirap pero bakit ang lungkot? Bakit hindi ko kilala yung kapitbahay ko? Sa Pinas kapag gusto mong kausap, lumabas ka lang meron ka na kausap. Tsaka alam mo kung may sunog yung bahay mo 
(We are no longer having a hard time but why is it sad? Why don't I know my neighbours? In the Philippines if you want someone to talk to, just go outside and there'll be someone to talk to. And you know if your house is on fire) you best believe, your
kababayans
(compatriots) are gonna come to your aid.
So I say
bayanihan
. It's communal unity, cooperation, working towards something for the common good. It's mutual aid. It's like, I have soy sauce today. Here's some soy sauce. When I don't have soy sauce, you give me soy sauce! (laughs) That's how we operate at Intent. We have different programs. We have two right now and there's more to come.
We currently have the
bayanihan
fund, which is like a pay-it-forward fund. So people can tell us when they come into the café, hey I wanna donate to the fund. We use the funds for BIPOC people and our community members who are short on funds and are in need of a snack or a drink or whatever. They come in here and they can tell us, hey can I have a snack, I don't have money. We use that fund to cover it. No questions asked. You don't have to show ID or like proof or anything. You just have to say that you need something and we will get it for you because the community's got it. We got your back.
We really want to introduce or spread the spirit of
bayanihan
because that's what's seriously lacking here in the Western world. That's the reason why there's higher mental health issues and illness in the Western world even though the quality of living is so high!
The other program is profit-sharing. Every month we take a percentage from the sales of certain items that are high-profit margins for us. We take 5% of that every month, and then we donate it to other LGBTQ and BIPOC community organizations who directly do something for marginalized folks.
That's beautiful. And that's a huge percentage, especially for a small business!
I know. (laughs) We were wondering, if we can give something, even just a tiny thing like that as a small business, like what more can Starbucks do? What more can Second Cup do, or Tim Hortons? We believe we always have something to contribute. So,
bayanihan!
Bayanihan! If only more leaders in coffee and business in general could think like that, then the world could be a more just place like you are working toward.
Big dream, but you know what, we're working towards it, and that's what counts.