My experience at the 2018 Canadian AeroPress Championship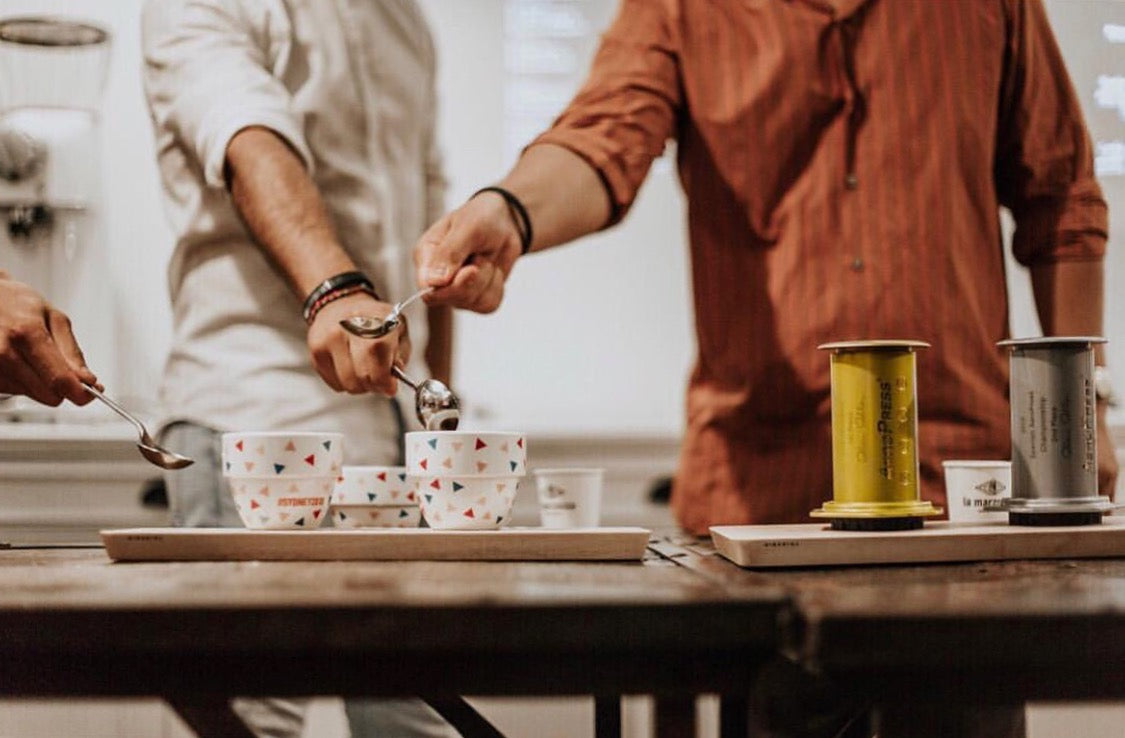 Ancient History

My experience with making AeroPress coffee dates back to when they were relatively new on the market—and made from a clear plastic—circa 2008. While aesthetically pleasing, those early models were unfortunately full of BPA, as it turns out. Lucky for me I never really got into using it, and soon switched to the HARIO v60 for my everyday brews. 

At the time I assumed AeroPress was more geared towards americano style drinks, where you'd brew with espresso and then top it up with hot water after. So I bought crappy espresso, ground it on my HARIO hand grinder, and was never happy with the results. And so for years, when visiting cafes I would always avoid AeroPress brews, opting instead for Fetco or pour over options. Fast forward to when I became a barista, and began working with the (BPA-free) AeroPress again: I quickly realized the potential I'd been blind to all those years. Once I began making them for people, and using filter roasts with proper ratios, I was converted. During my time as a barista I would eventually plunge hundreds of AeroPresses for customers. It soon became apparent how great the brew method was—consistent, simple, fewer variables than others—and easy to master. 
A Giant Syringe 
Meanwhile there was this whole AeroPress culture cropping up around the world. I had no idea about AeroPress competitions, and that Norwegian coffee legend Tim Wendelboe had hosted the first one in 2008, in Oslo. All I knew about AeroPress was that its creator's claim to fame was inventing a frisbee-style toy, and I typically described the brewer to those unfamiliar as "a giant syringe." 

But when you really think about it, the momentum AeroPress gained over the years starts to make sense. It's such a simple way to brew coffee— it doesn't require finicky special equipment or extensive training, it's not cost-prohibitive like some coffee gear out there, and it's absolutely perfect for travel. Furthermore, its cult-like following was being championed on both sides of the coin, from the general coffee-consuming public all the way to champion baristas. People began to share recipes on reddit, more and more cafes and coffee organizations hosted competitions, and they became more prominent options on menus around the world. This piece of plastic, for around forty bucks, had earned its place.

Taking the Plunge 

In 2015 I took the plunge (sorry, bad pun) and started to go down the rabbit hole. That year I competed in the Canadian AeroPress Championships, representing Phil & Sebastian. Preparing for it was nerdy and fun, and while I learned a lot, I unfortunately did not place. But one of the lessons I learned: AeroPress brewing definitely levels the playing field. To wit, both first and second place competitors weren't even baristas. One, a retired engineer who enjoyed making coffee at home on weekends, the other, his full time job— a house-painter. This was truly a testament to the democratization of AeroPress comps wherein anyone can have a chance at making a phenomenal, world class cup of coffee. The whole event could be summed up with a former Eight Ounce employee—who also competed—dressed as a lumber-jack, wielding an ax and marching around the stage WHILE COMPETING; this wasn't your typical chin-scratching, clipboard score sheet, overly serious barista competition. People have fun, drink beers, hang out with friends and by the end of the night even the judges are can get a bit tipsy. It's become a platform for anyone and everyone who enjoys coffee to test their skills, in the most chill environment, completely different from other coffee competitions.

A Return to the National Stage
This year I was able to compete in the Canadian National AeroPress Championships again, which took place in Hamilton, Ontario. Only this time I was sponsored by Eight Ounce and Kruve. I was excited, nervous, and found myself scrambling to come up with a recipe in the weeks leading up to it. 

For my comp recipe a big focus of mine was water chemistry— more so than 2015. Another big focus for me was doing brew concentrates. I noticed a lot of the recent champions all over around the world were using this style of brewing. It really seemed to wow judges, and I soon discovered why. Making a concentrate allowed for more control — you could decide how strong to make the final brew, and adjust it on the fly by watering it down. Typically with AeroPress people brew with 14 to 18 grams of coffee, but in working with concentrates, some brewers use as much as 35 grams, and then add about 150 grams of water to the brew at the end. But I also had to make a couple important decisions: One, decide on the "inverted method" vs the standard, and two, to sift or not to sift. After many, many attempts, I decided to invert my AeroPress and to use the Kruve sifter. Then after a bit more tweaking, I finally settled on my comp recipe. 

When it came to the day of the competition, I did one last run through in my cousin's kitchen and had a mild heart attack when I tasted the coffee: it was WAY off. I then noticed that during transit, the top burr + burr collar of my grinder had come loose, and I failed to properly align them. I then re-adjusted the burrs, did one more quick test brew, and after nervously tasting took a huge sigh of relief. Back on track, I then packed up, and hit the road with my co-worker Dale— our Toronto rep. We arrived in Hamilton early and did a mini-cafe crawl in the hours leading up to the comp. 

At the competition, it turned out that my name was drawn for the last heat of the first round, so I was able to relax for about 45 minutes, and schmooze a bit. It was really great to see some familiar faces, and to run into some of my favourite Canadian coffee professionals (like Cole from Rosso!).
Fast forward to my first and second heat, I felt much less nervous than any other time I had competed, and somehow made it through both rounds, relatively calm and collected. Not the case for the final round: I remember the last round was a complete shock to me, and I scrambled to prepare; I honestly did not anticipate I would make it that far. I had only brought 1L of competition water with me, and had just enough for that last and final brew. I will say, on that round, my nerves got the better of me, and I accidentally poured some fines from my Kruve sifter back into my AeroPress… a crucial mistake. These fines that I sifted out of the coffee were removed for good reason: they made the coffee more bitter and unbalanced. But I chalk up the mistake to being tired and nervous, over-caffeinated and dehydrated— bad combination—so yeah, mistakes happen. In the end, I was happy with my overall 3rd place result, and I must give credit to Paul from Rosso Coffee Roasters for his second place finish, and to Elly Cortez from Show & Tell for her win. I actually managed to sneak of sip of Elly's winning brew afterwards and wow, I have to say—she is a magician. She transformed the coffee into this incredible, insanely delicious, perfect cup. It was sweeter and more balanced than my coffee. Hats off to her— her AeroPress recipe produced a world-class brew that deserved to win, and that will hopefully take her all the way in Sydney, Australia, at the World Championship this month. Good luck Elly!
---

I'd like to thank my team at Eight Ounce for sponsoring me, and providing me with all of the gear I needed to succeed! And thanks to my Eight Ounce colleague Dale for driving me to and from Hamilton, and being for being a great help during the competition! I've included my recipe below — try it out, and see what you think. Cheers to great coffee!
Jon's competition AeroPress recipe:
Inverted / paper filter
30g sifted coffee for <300μm fines removal
88C water
Add 125g water, stir, cap
Flip and plunge at 1:10 for 30s
Add ~175g water, adjust to taste
Photos: Alexander Mills

 
Headline Photo: World AeroPress Championship