New Year, New Reusable Tumbler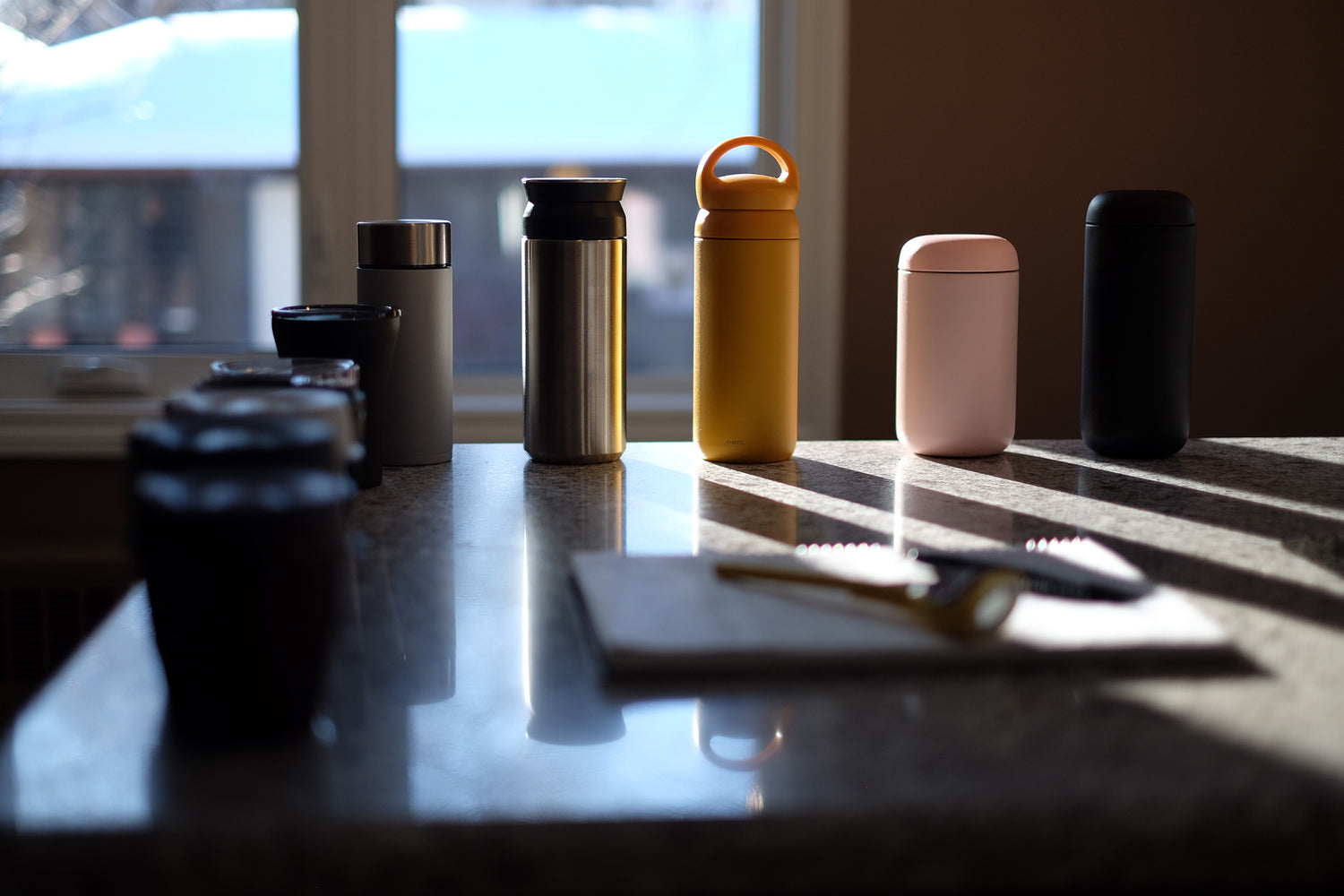 The snow and cold and polar vortex are here and what better way to combat Old Man Winter than by keeping your coffee nice and hot. The solution - a reusable coffee tumbler! I have two goals in writing this tumbler information filled post. First, I hope to encourage you to find ways to use your existing travel tumbler(s). Second, I will compare some of the tumblers that Eight Ounce offers and offer a buying guide. Maybe you've been eying the insulated KeepCup for a while, or maybe you are intrigued by the new Fellow Carter Move - hopefully this post can help you in all of your decision making!  Like coffee drink names and their varying respective milk volumes (just how big is a macchiato?), the coffee industry also uses many terms for coffee reusables. In this post, I will mostly use the term tumbler, but will give occasional references to mug and coffee reusable - they're all in the same coffee reusable vessel family to me! 
Our previous blog post spoke about how some cafes are coming up with creative ways in allowing reusables. Sadly we cannot use our insulated tumblers as much as we would like due to health restrictions, but there are many ways we can still put them to use (and save you some money and help the environment along the way). Many of us use tumblers from an environmental perspective. Not only do our tumblers look great, but they reduce our daily waste little by little. In the last few years there have been great strides made in the reusable, recycling, and composting front. However, there have been a few steps back with the increased use of plastic bags and disposable masks. Let our reusable cup use be a little victory in all the battles that are going on today!
Whether you are working from home, or going into the office, you can still put your favourite tumbler to use. Coffee stays hotter, longer in an insulated tumbler. So even if you're working from home, put that freshly brewed coffee in a tumbler and your coffee will stay hot until late morning or the afternoon (if you haven't finished it by then!). You can still support your local cafe through buying whole bean coffee and then brewing coffee at home. This allows you to continue supporting the cafe, which saves money, and still allows you to use your favourite tumbler. Triple win!
Testing
For the testing, I was given 11 tumblers from Eight Ounce. They range from being non-insulated vs insulated, stainless steel lining vs ceramic, snap-on vs screw-on lid, and various sizes and finishes. The diversity gives us a good snap shot at different materials and designs. There are numerous ways I could have gone about analyzing the mugs. Before I buy any piece of gear, I research the heck out of it. I tested information that I would appreciate in making a new tumbler purchase. I cross referenced this with some friends and other coffee professionals and came up with a few different categories: heat retention, spill-proof / leak-proof, as well as stand out features and user experience. At the end of the testing, I've provided a little summary of my findings, and made a few recommendations based on what you might appreciate in a coffee tumbler. Let the testing begin!
Heat Retention
Heat retention is a big deal to many people who consume coffee. Product insulation, whether keeping things hot or cold is big business. We have seen the big impact that KINTO has had on the coffee industry. KINTO has thoughtfully designed their products to not only look beautiful, but work really great as well. This can clearly be seen in the KINTO Travel Tumbler. It's one of our best selling tumblers for a reason. While we won't go too much into aesthetics as it is more subjective, we can say that the coffee tumbler industry has greatly diverged from the classic travel thermos design.
There is also a camp within coffee consumers that actually DON'T want their coffee to stay boiling hot. They want their coffee to quickly cool down to a nice drinking temperature and sip away on the steps of a cafe or as they walk their dog Hal. These consumers should consider buying a non-insulated tumbler like a KeepCup or Huskee cup so that the heat will dissipate more quickly. We will explore heat loss in our testing.
There are many ways to do a heat retention test. To keep things simple, I pre-heated* each cup with ~200F water for 1 minute. I then discarded the water and filled each tumbler two-thirds full with ~203F water. When testing the temperature, I took the lid off completely and checked the temperature with a digital probe thermometer. I performed the tests over the course of a work day: 9am-5pm. I checked the temperature at 11am, 1pm, 3pm, and 5pm. For fun, I even tested the temperature 24 hours later (in the event that you forgot to finish your coffee). I know this is in by no means a perfect test. You will likely drink more frequently and not remove the lid, and the volume of water is not the same, but it's a simple way to see some data. Will it matter to you that one cup held their temperature 5 degrees more than others? Maybe. Will we see a big drop in all mugs after a certain time? I've plotted all of the recorded temperatures into a graph to visualize the heat trends.
*It's worth noting the power of preheating your tumbler. When I initially filled the non-insulated tumblers, the walls of the mug quickly absorbed much of the heat, with the water quickly reading around 170-180F. With pre-heating, it allowed the water to stay at 203F upon the pour. The initial drop in temperature also happened with the stainless steel and ceramic lined mugs, though not as severe. So if you want to maximize heat retention, a quick preheat will do wonders. However, if you want to drink your coffee more quickly when you get a pour-over at your local cafe, tell them to skip the pre-heat.
Looking at the data, we can see the large drop in heat within 2 hours with the non-insulated KC Brew, KC Original, and Huskee Cup. The KC Thermal and KINTO To Go all had lesser drops thanks to the insulation, but their snap-on lids just don't lock in the heat as well as a screw-on lid. The screw-on lids all performed very similarly and their heat all dropped in a nice linear fashion. They also retained some heat for the next morning, keeping your coffee at a still drinkable lukewarm temperature.
I was really impressed with the heat retention of the KINTO To Go given the fact that the mouth is fixed open. This goes to show the solid insulation that KINTO has in their products. Having used the Kinto Travel Tumbler since its debut, it's nice to see how well it performed - only being bested in this testing by the Fellow Carter Move.
Spill Proof / Leak Proof
How does it tumble? Many manufactures don't speak about leakproof-ness as much as they used to - maybe they received too many incidences and warranty claims about coffee leaking onto a laptop or other pricey backpack items. I've had more than a few notebooks and books that got a good coffee soak, so I now only store my tumbler in my outer backpack sleeve. Many tumblers are highly leak resistant or have some degree of spill resistance and it's nice to know what these mugs can offer
I know that the tests are not perfect and they are in a controlled environment, so bear in mind that these exact results are not guaranteed in the day to day cup performance. The first test I performed is The Knock-Over - What happens when the tumbler is knocked over? Will the lid pop off, coffee leak out, etc. I knocked over each tumbler a dozen times on the counter. The second test I performed was The Shake & Move - How it performs if you were walking or commuting to work while holding it in your hand. I shook the tumbler back and forth and side to side with varying speeds. The third and final test was The Flip-pity Flip - How the tumbler performs as if it was flipped upside down in your pack. I flipped over each tumbler, held it upside down and gave it some shaking and whisking motion. 
I was very surprised (and glad!) that all of the lids remained on the cup in the knock-over test. This is a good first line of defence in a desk spill. The drinking tab on all of the KeepCups provided great protection in all testing, proving that their original design continues to perform well. The Huskee Cup and Kinto To Go had the poorest results due to the drinking mouth always being open. I am happy to report that all of the screw on lid tumblers did not spill or leak throughout the tests. If spill / leak resistance really matters, you have a few different screw-on-lid design options to choose from.
For the record, all of these tumblers come apart easily for cleaning. Many popular mugs on the market unfortunately do not. This leads to all kinds of nasty things being trapped in the lid and seals, especially if you are using milk in your coffee or drinking espresso milk drinks. KINTO factors in the punishment we put our tumblers through and sells replaceable seals for all of its tumblers to keep them working well for years to come. Ceramic lining tends to clean easier and retain smells less than stainless steel, but it is more prone to scratching and even chipping.
Stand-Out Features and User Experience
There are many factors to consider when buying a tumbler. I thought it would be valuable to showcase a few features that really stand out for each tumbler. These highlighted features would be some of the strongest reasons for buying that particular mug. While these are my opinions, I am trying to speak about the particular features of the tumblers and my day to day use of them.
KeepCup Thermal - Classic KeepCup design with the benefits of thermal insulation. The silicone exterior provides extra grip for those slippery mornings.
KeepCup Brew - The glass body is the shining star here. KeepCup is the world's first barista standard reusable coffee cup. The grippy silicone band provides just enough grip and heat protection.
KeepCup Original - The light-weight plastic body is great for travel and gives the cup high break resistance. It is always in my travel coffee kit for these reasons. It also makes for a great water cup for my baby girl. 
Huskee Cup - The body is uniquely textured like a corrugated paper coffee sleeve. The Huskee swap cafe program allows you to exchange your "dirty" cup for a clean one filled with your beverage of choice. AND it's made partially of coffee husk! 
KINTO To Go - The always open lid provides quick drinking action while still keeping your coffee nice and hot. This is ideal for those that want all of the benefits of sipping away at a mug, with high quality KINTO insulation.
HARIO Stick Bottle - The Sandy-Grip exterior makes the tumbler easier to hold and allows for easier opening with bulky gloves. It makes for a great winter activity tumbler and keeps your hands nice and toasty in their gloves.
KINTO Travel Tumbler - Minimal, sleek design with superior heat retention and leak resistance. One of our best selling tumblers and my favourite tumbler for the past 3 years. Fun Fact: The KINTO Travel Tumbler makes for a great cocktail shaker as its flow restrictor doubles as a great ice strainer. Cheers! 
KINTO Day Off - The Day off has all of the thermal benefits KINTO has to offer plus a handle on the lid. This tumbler feels like it was meant for cold beverages and makes for a styling water bottle. 
Fellow Carter Everywhere - The wide mouth allows for aromatics and your AeroPress, the wine glass-like drinking lip is a pleasure to drink out of, and the ceramic lining all make for a "nice mug at desk look". I really like being able to brew directly into the Carter and I alternate between this and the Travel Tumbler regularly.
Fellow Carter Move - A slimmer version of the Carter Everywhere. With the snap-in splash guard and slim width that is cup-holder friendly, the Carter Move is ready to move with you step by step!  
Closing Remarks
There's a fit and feature for everyone. It all comes down to personal preference for this. Do you like a smoother feeling tumbler? Screw-on lid? Ceramic lining? There's a nice variety of combinations at Eight Ounce to allow you to choose what mug works best given the coffee situation. Even given this information, you ultimately might choose a tumbler based purely on aesthetics or upon a friend's recommendation.  
There are no winners or losers in this testing. The only winner is you finding the right tumbler for the right situation. The hope in writing this was to give you detailed information in choosing a tumbler and encourage you to use the ones that you already have. We want you to be enjoying your coffee, tea, hot chocolate in new and old ways at home, the office or when going for a walk with a loved one. Happy Brewing!