The Kaffelogic and The Canadian AeroPress Championship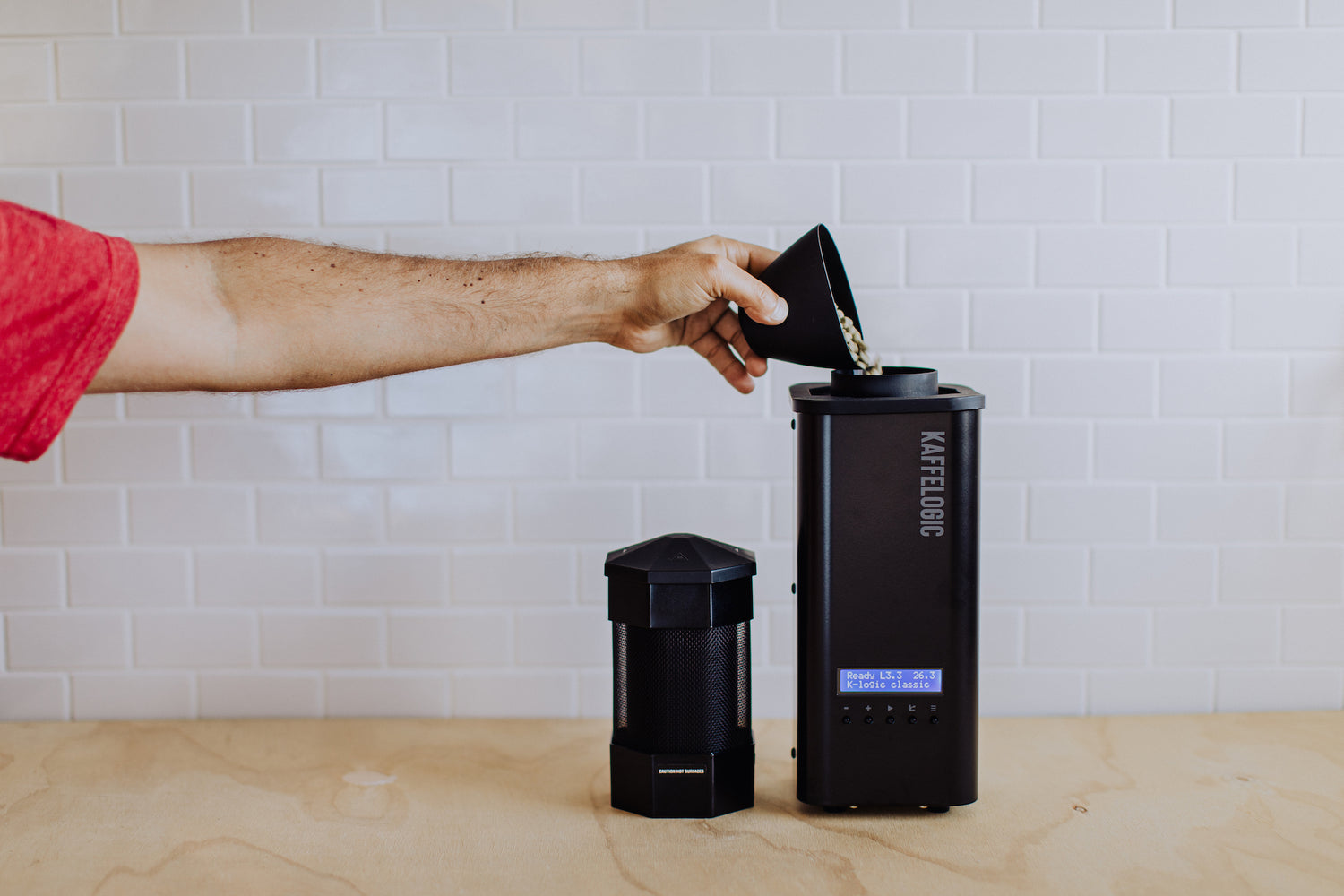 The World AeroPress Championship is a one of a kind event where participants compete to prepare the best cup of coffee using their favourite AeroPress recipe. This competition brings the coffee community together for a fun and exciting night where recipes and ideas are exchanged.  Last November (2022), Eight Ounce had the pleasure of hosting the Canadian AeroPress National Championship and roast the coffee that the competitors brewed.
Eight Ounce has always had the goal of being heavily involved in the coffee community as we want to see the specialty coffee scene in Canada grow. So, when we got the opportunity to roast for the competition, we realized that it would allow us to do what we do best; build community.
We decided to partner with Forward, a Canadian green-sourcing company which offers high-quality and unique coffees while emphasizing transparency and building connections with the specialty coffee sector. From the start, we knew that we wanted to find an exceptional coffee with interesting attributes, allowing the competitors to play around with their recipes and highlight those unique characteristics. Forward provided us with an incredible anaerobic washed Typica Mejorado coffee from a farm called Hacienda La Papaya in Ecuador. This coffee was beautiful, clean, sweet, and had a winey-like quality acidity.
When it came to roasting this coffee, we knew we wanted to use the Nano 7 roaster from Kaffelogic, a company based in New Zealand. The Nano 7, launched in 2019, is a small-batch coffee roaster designed for home roasters and professionals wishing to roast between 80-120g of green coffee**. 
Unsurprisingly, we weren't the first ones to use the Kaffelogic to roast competition coffees. Matt Winton, representing Switzerland at the 2021 World Brewers cup, 
By the time of the competition, we'd been testing the Kaffelogic for only a couple of weeks. We still had a lot to learn about it and were still working on understanding how to profile with it. The great thing with Kaffelogic is that they provide you with everything you need to get started, whether you are an experienced roaster or brand new. This small batch roaster comes with a selection of core profiles already installed on the machine. Kaffelogic allows you to create, modify and adjust a profile from their software "Studio". Studio allows you to control the total roast time and easily edit the roast curve and shape it as you want it to look. It offers many settings that will enable you to play with the fan profile, preheat power, mark the first crack, determine boost zones to help keep the roast following the desired temperature, etc. 
After using Studio for a few days, we felt we had a good sense of how the software worked. We decided to use a profile we had already been using for another coffee with some similar characteristics and modified it to highlight the bright and juicy acidity of this coffee, offering tasting notes of mandarin orange, and nectarine.
Without digging into too many details, for this anaerobic washed Typica Mejorado, we went for an overall short roast (7min45 total time), a development time of about 1min20 and an end temperature of 210-212°C. We also decided to add a couple of boost zones to our profile, particularly during the final stage of the roast (after the first crack), to maintain the temperature we wanted. By doing so, we believe that we could produce a clean light roast with distinctive flavours, which would be easy to work with for the competitors.
Roasting is about continuous improvements and self-reflection. As we only had a small amount of coffee, we didn't dare change too much to a roast that was already working. However, this coffee might have benefited from even more heat after the first crack, making those peachy and citrus flavours pop even more. Roasting is a complex process, and we feel there is always something more to learn from each coffee. We found that Kaffelogic helps by offering users a place to exchange profiles and give each other tips about roasting. It takes the form of a forum called Kaffelogic Community. As a company which loves being a part of the coffee community, we couldn't hope for anything better. 
Roasting for the Canadian AeroPress Championship was an exciting experience that offered us the possibility of not only entering the roasting community, but to test and approve the Kaffelogic and share an amazing coffee. 
Find all the Products Here!