We revisit an old fave, The Clever Coffee Dripper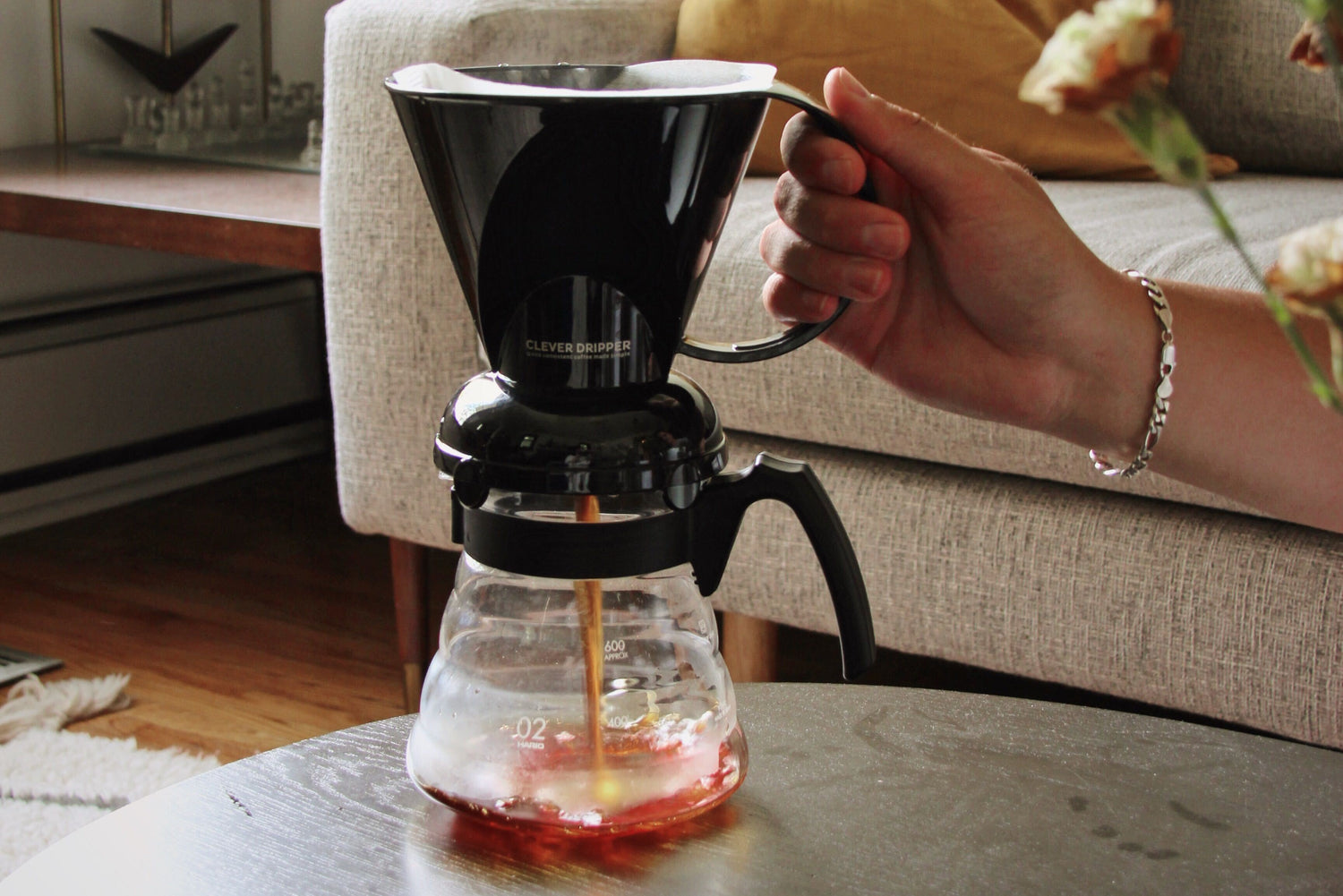 Almost 5 months to the day since the first Covid-19 case hit Canadian shores in B.C., we've seen a lot of change in coffee habits. Last Sunday, The Toronto Sun reported, "Pre-pandemic, 91% of Canadians regularly consumed coffee purchased outside of the home – that's fallen to 46% amid social distancing requirements, reports a survey by Field Agent Canada." And sadly, Starbucks recently announced 200 of its Canadian locations are slated to close their doors. There are glimmers of hope though! Many independent cafe owners, not bound by rigid corporate restrictions, were able to quickly adapt and change their business models. These businesses, which are crucial to our broader coffee community, made quick changes at the beginning of the pandemic, to continue to serve their patrons. We also know that many of you, as evidenced by the Field Agent Canada survey, now make your coffee at home. Some of you are dusting off gear that sat atop shelves like trophies, re-visiting forgotten brewers out of necessity. These gadgets may have been replaced by your local barista-- before March-- but now having been forced to work from home, you may find yourself bringing them out of retirement. 
To help everyone make better coffee, I'd like to shine the spotlight on one of my old favourites, a device I wrote about on the blog a few years back: the Clever Coffee Dripper. I feel that this is its moment to shine for many reasons. Firstly, to those cafes who continue to operate coffee programs similar to pre-pandemic times, the Clever dripper offers a faster alternative to traditional manual pour overs. Perhaps you're operating with less staff, and may have had to axe your pour over options in favour of faster drinks like batch brew or Americanos. Well, how does a 2:20 brew time sound? Keep a kettle filled with water, have 18 grams of pre-dosed beans at the ready, and you can quickly make a brew-to-order coffee for patrons.
For the home office worker now juggling Zoom calls and nagging kids, your previous morning coffee routine may no longer be viable. No time to run to the local cafe, and no time to fuss with standing over your Chemex for 4 minutes. But you still need coffee, and want it fast. The Clever dripper is made for the occasion. You can multitask easily with this brew method while you flip your toast down and browse your fridge for breakfast items, as the coffee steeps away. At the 1:45 mark, you drop the dripper onto your favourite carafe, and get back to prepping breakfast while your sweet amber brew drains down. 
And for the nerds out there like myself, I'd invite you to revisit the dripper, often overshadowed by sexier gadgets with slick social media campaigns. Me personally, I'm a V60 man more often than not, but why not switch it up? You probably don't cook the same meal with the same pan every night of the week, right? I know I don't! Why should coffee be any different? What I like about the Clever dripper is the wider margin for error, and the flexibility it affords. I've enjoyed grinding really fine and using lower brew water temps (88ºC), but also grinding coarse, brewing hot (96ºC), and agitating the heck out of the grinds to increase extractions. The one consistent thing I do enjoy is how clean the cups end up, and how they highlight acidity. You can easily riff on simple recipes to get a wide variation of results.

Speaking of nerding-out, through rigorous testing when I developed a Clever brew recipe for Phil & Sebastian, I noticed that differences in steep times, ie., +/- 15 seconds, actually had very little effect on the brew strength. Which is nice. Get caught up in a group chat on Slack? Have a toddler literally pulling your pyjama pants down, vying for attention? It's OK. The Clever dripper is very forgiving and I promise your brew won't get ruined if it steeps too long. What's more, it's made of a high quality durable BPA-free Tritan™ plastic, which means that it'll likely survive a fall from your cafe's counter, or you can throw it into a tote bag for a cottage weekend without much worry. You could say… it's a clever addition to your coffee brewing repertoire. *Thanks everyone, I'll be here the whole week. Try the veal.*
Buy your very own Clever Coffee Dripper here (black) or here (transparent) or as a pack with filters included.
Subscribe to this blog's RSS feed using https://eightouncecoffee.ca/blogs/news.atom