Empowering Folks Just By Being Themself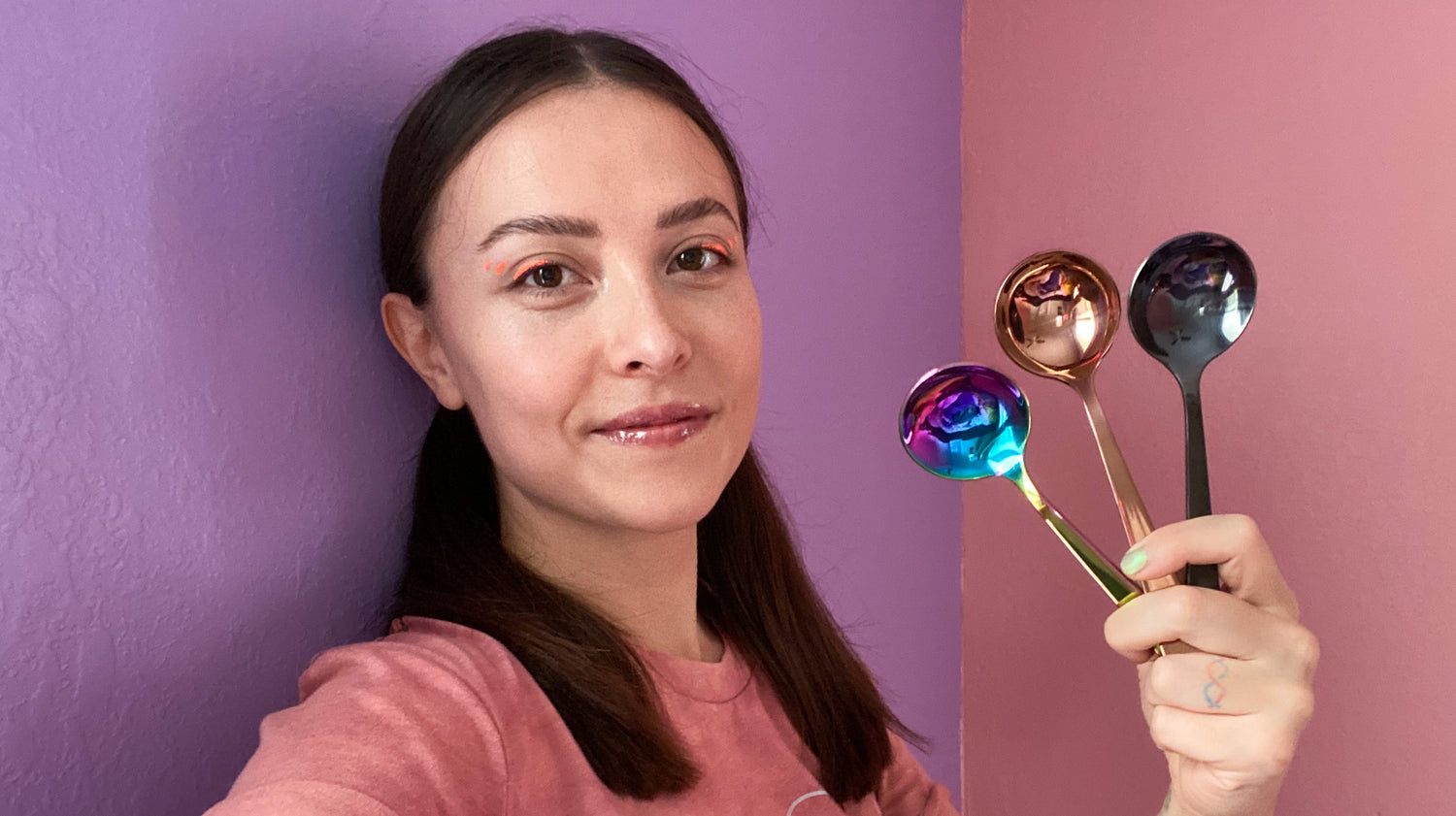 Today is International Non-Binary People's Day, but as Umeko Motoyoshi put it, "trans and nonbinary folks are precious, worthy, and deserving of respect and dignity all year long." We highly recommend checking out Umeko's 
Beginner's Guide to Pronouns
 and
The Next Steps
, as well as their beautiful
cupping spoons
, which has recently been touted as
the best spoon
! Get to know more about this amazing coffee professional in our latest feature.
Tell us about your coffee journey!
My dad was a Japanese tea ceremony master so I actually started out in tea. After watching David Schomer's espresso DVD, I ended up switching to coffee. Since then I've moved through many different areas of the coffee sector, from barista work to developing instant coffee technology. I got my Q certification in 2017. In 2019 I started selling rainbow cupping spoons as a tool of empowerment for coffee people who hold marginalized identities and often experience marginalization at the cupping table. The spoons took off way more quickly than I ever thought, and that's how I ended up selling gay spoons as my full-time job.
What coffees do you get most excited about?
As an Asian person, I love coffees from Asian coffee growing regions, many of which are considered "emerging" in the specialty sector. Philippine coffees and Vietnamese coffees, including fine Robustas, are some of my favorites. I also love natural-processed coffees from Ethiopia. That's the OG coffee and I respect it so much. Like, what is not to love about coffees that taste like fruit and chocolate chip cookies? And I also love the coffees that some consider "basic" - clean, balanced, washed coffees in the 84-85 point range. I think some coffee people take those coffees for granted but they really are so delicious. I love and appreciate a wide range of coffees and roast levels and I love that there's something for everyone. Even if I taste a coffee that I don't prefer, I know that someone else will enjoy it and I appreciate the incredible work that went into it.
What does non-binary visibility mean to you?
At some point in the past year I added the word "nonbinary" to my social media profiles. I mostly did this because I was getting misgendered quite a bit and called lady, girl, woman, etc.. It didn't really stop the misgendering but something else happened that surprised me: I started getting a lot of messages from people who felt encouraged and validated by my visibility as a nonbinary person. Like if I can be a nonbinary person succeeding in the coffee industry, they can be that too and they're not alone. I think it's really cool that I can help nonbinary folks feel more confident in their chosen field, just by being myself.