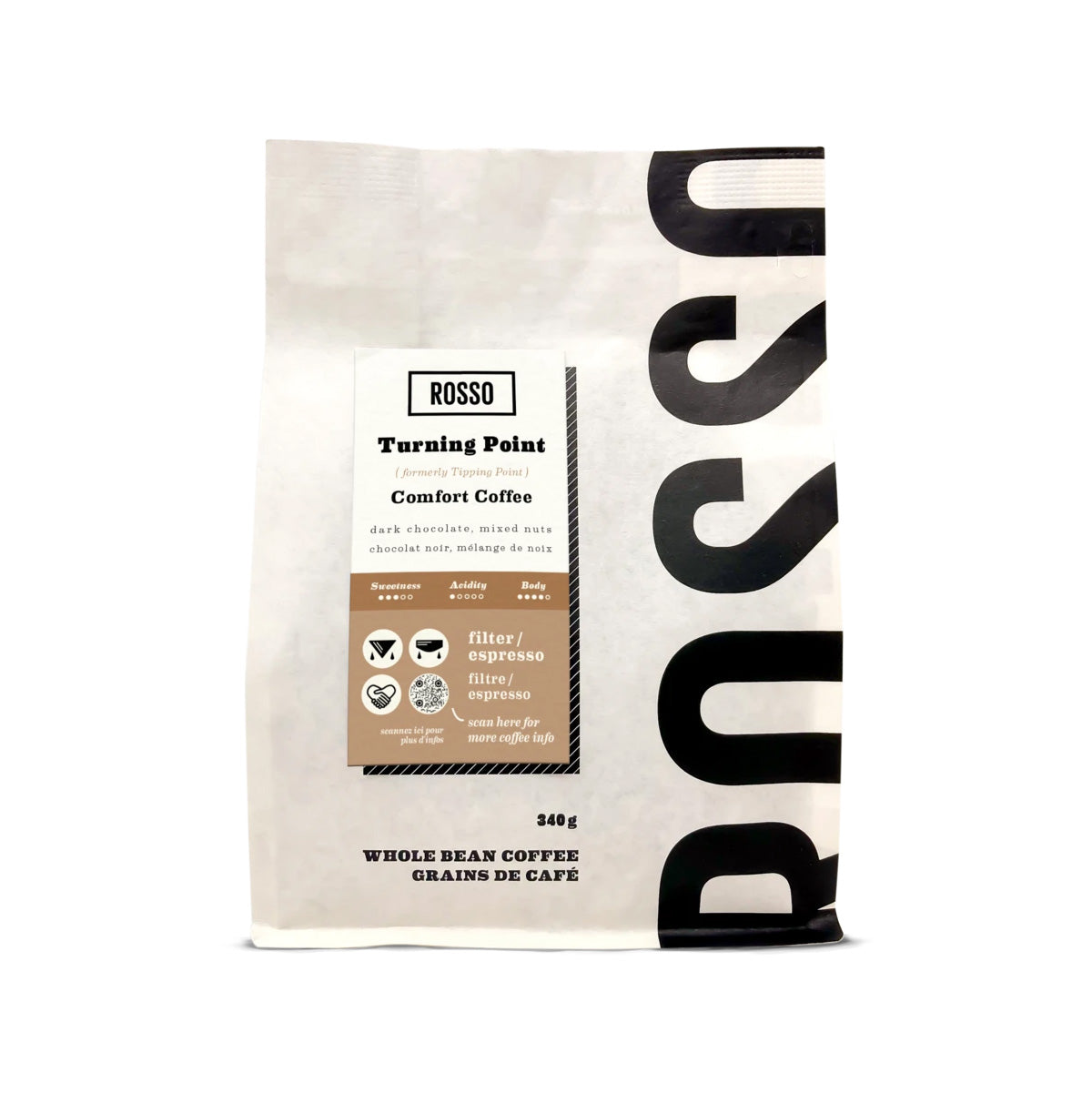 Rosso Coffee Roasters
Rosso - Turning Point
Sale price
$17.50 CAD
Regular price
Tasting Notes: Dark Chocolate, Mixed Nuts, Smooth
Chocolatey, nutty, and smooth. This coffee sees a little more development in the roaster to minimize the acidity, it hones in on the body to act like a warm hug. This Turning point is a coffee 50/50 blend with coffee from Santa Lucia, a natural Yellow Catuai from Brazil and Bumbogo, a washed Red Bourbon from Rwanda.
Better than ever
I've ordered this in the past and loved it. After which I went back to lighter roasts. Coming back to this is sensational. Gives me straight chocolate covered almond vibes. LOVE IT
Really good for Vietnamese coffee
A nice staff recommended me this!!
I tried it for my Vietnamese phin filter and it turned out really good. Heavy body, little acidity. Highly recommended it.
Made me like darker roasts
I had always been under the preconception that darker roasted coffee tasted burnt and overly bitter, since thats what I would taste from medium-dark roasted coffee from chains. This coffee is actually mind blowing. Espresso or v60, black or with milk, I find myself enjoying it all the time. I even went ahead and bought the kg bag, and seems I am running out of it as well. If you want something approachable, that does a good job at hitting notes of dark chocolate and smooth earthy flavors, this is the one for you. Regardless, I think it's a safe option to have on hand for guests.
Very nice darker roasted coffee
I had visitors over that prefer more of a traditional cup of coffee and this one was perfect. I made it as espresso as well as v60 and had excellent results. Little to no acidity in the cup.
Brilliant. The end game for AeroPress.
What else can be said about this coffee that hasn't already been said? Probably not much. But I will try…
It is perfectly characterized as "comfort coffee". If I could withstand the caffeine, I would drink 10 cups in a row. I can't get enough of it. I think I am loosely addicted to it. It's evening, and I can't wait to go to bed and wake up so I can drink a few cups of this in the morning.
AeroPress friendly, it is an absolute gem. This is by far the best AeroPress brewed coffee I have ever enjoyed. Bye bye chips, chaff, husks, skins and bottom of the roaster Costco Starbucks broken beans.
Try it. I can't imagine anyone not enjoying this if brewed by an AeroPress.
lovely
love the taste very chocolaty flat burr friendly
EZ PZ
lovely chocolate goodness, perfect for milk drinks
Not sure which coffee is right for you?
A Beginner's Guide to Choosing Your Next Coffee Bag